SALE
Sold out
Regular price
$59.95
$69.95
Sale price
Unit price
per
Experience the benefits of pulsatile nasal irrigation with our new SinuPulse Traveler Cordless Pulsating Nasal Sinus Irrigator. It's convenient cordless design, 4 pulsating rinse modes, rechargeable battery, and interactive LED display make it the perfect choice to complement our #1 rated best selling SinuPulse Elite Advanced Nasal Sinus Irrigation System. The SinuPulse Traveler features a rapid USB charging system, quiet operation, and global voltage. It's perfect for small spaces and travel. 
SinuPulse® is the #1 recommended brand. Clinically proven and accepted by leading healthcare professionals, hospitals, universities, and professional sports teams and athletic trainers.
View full details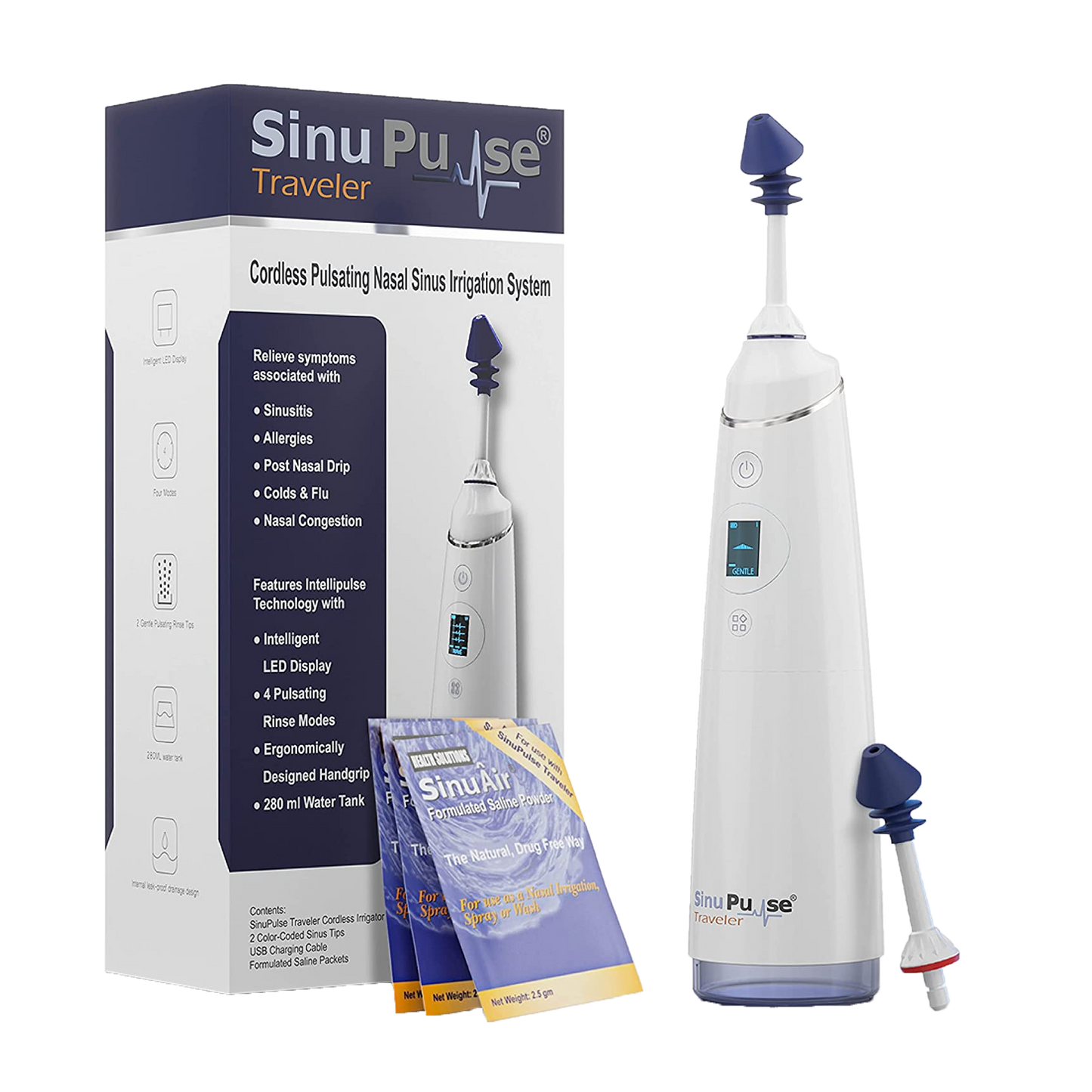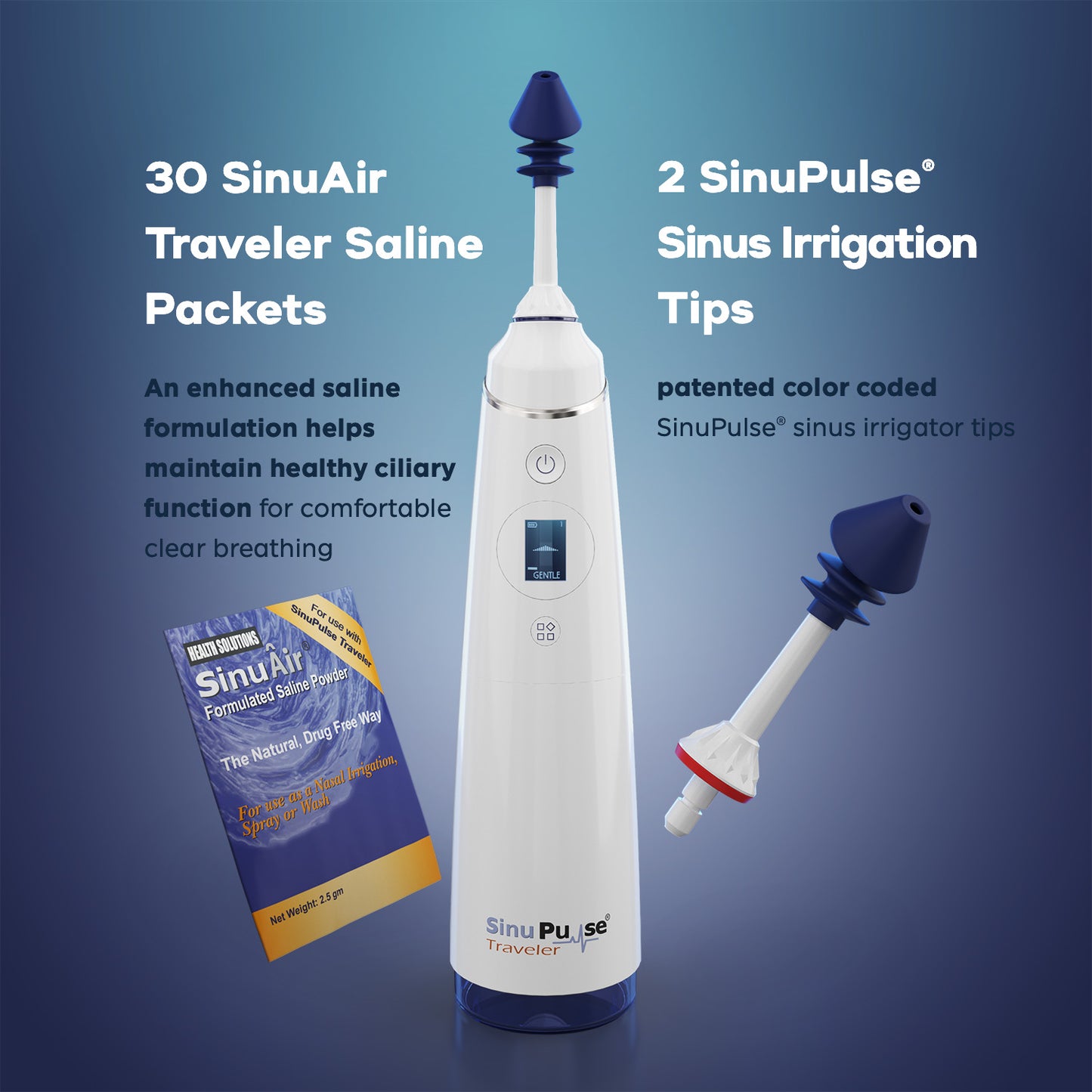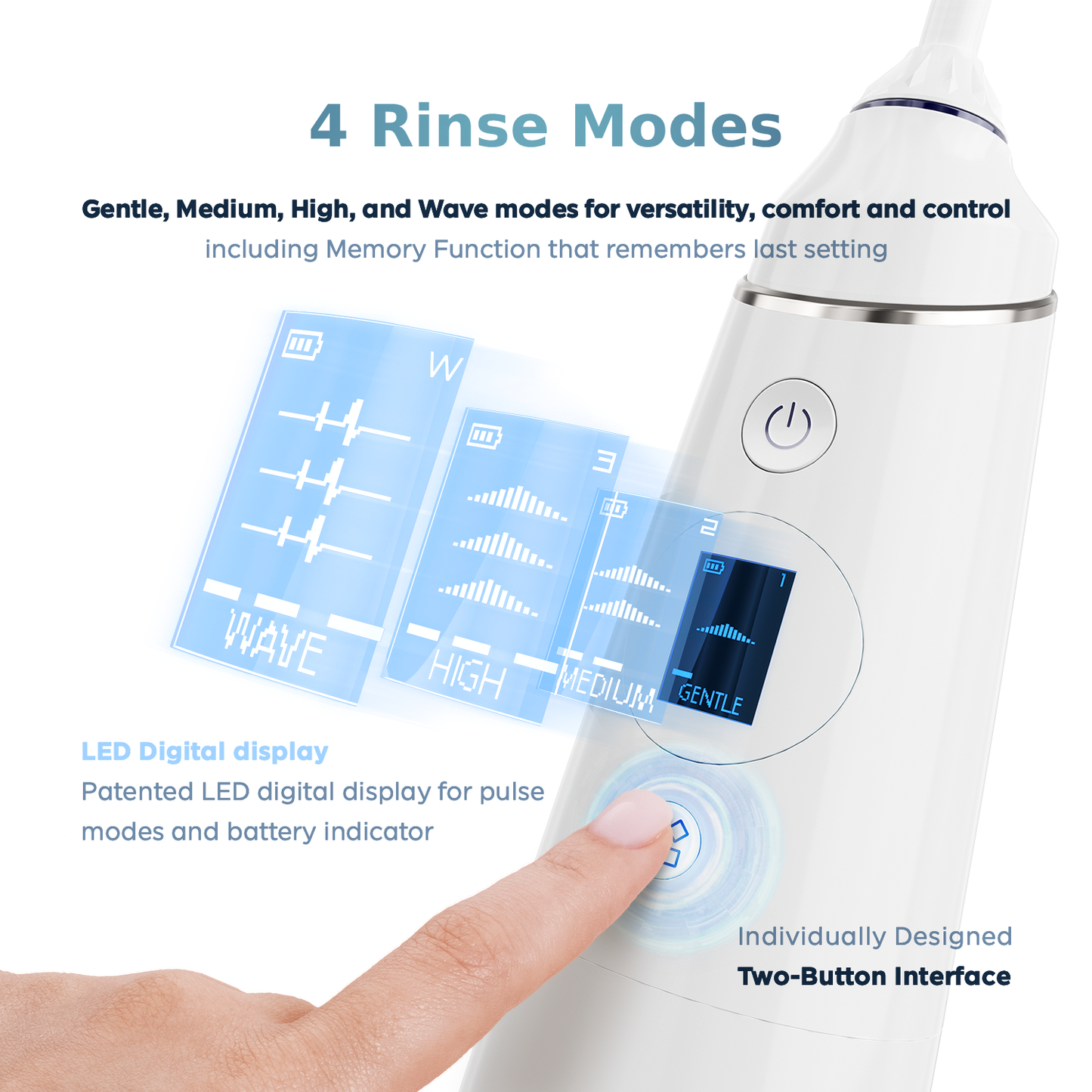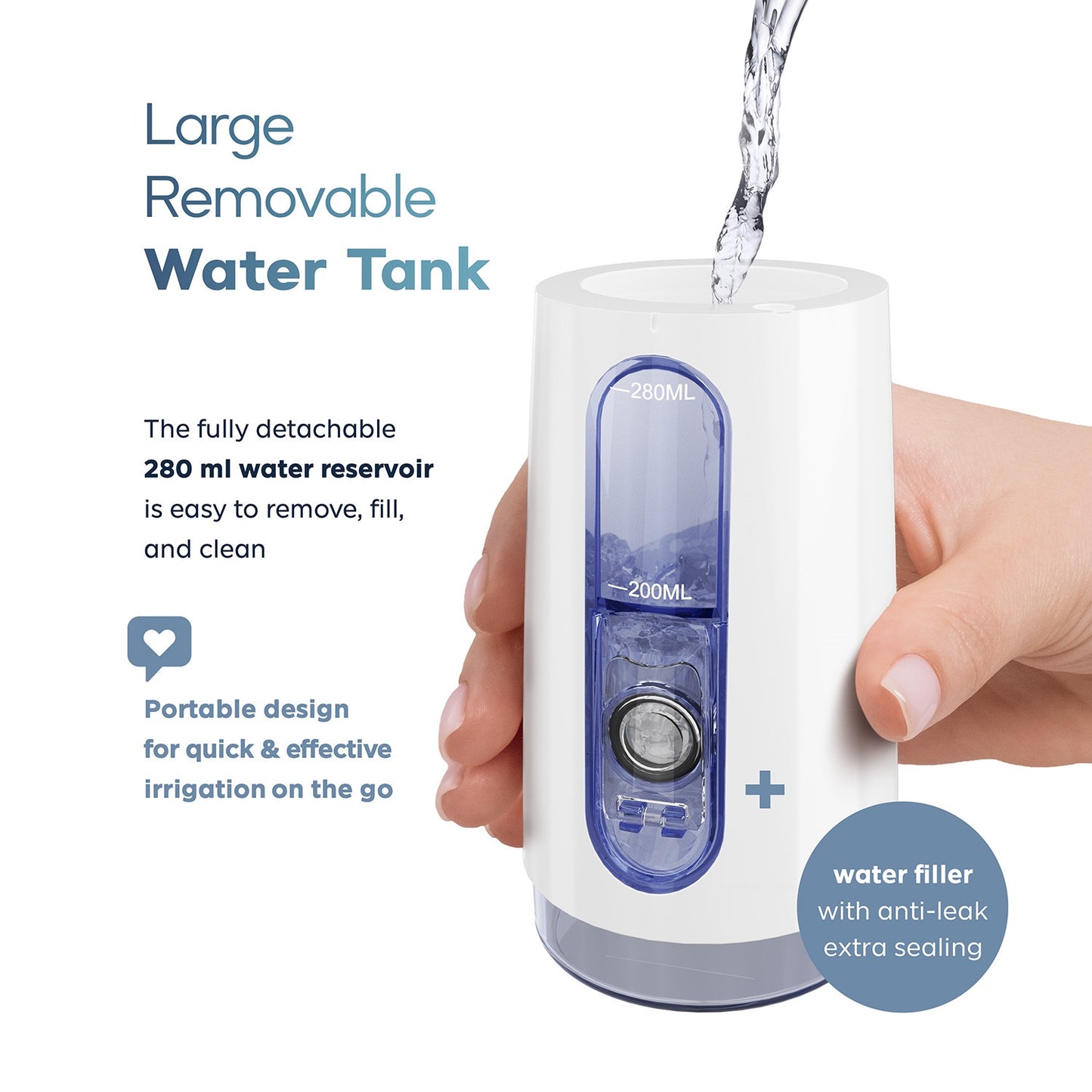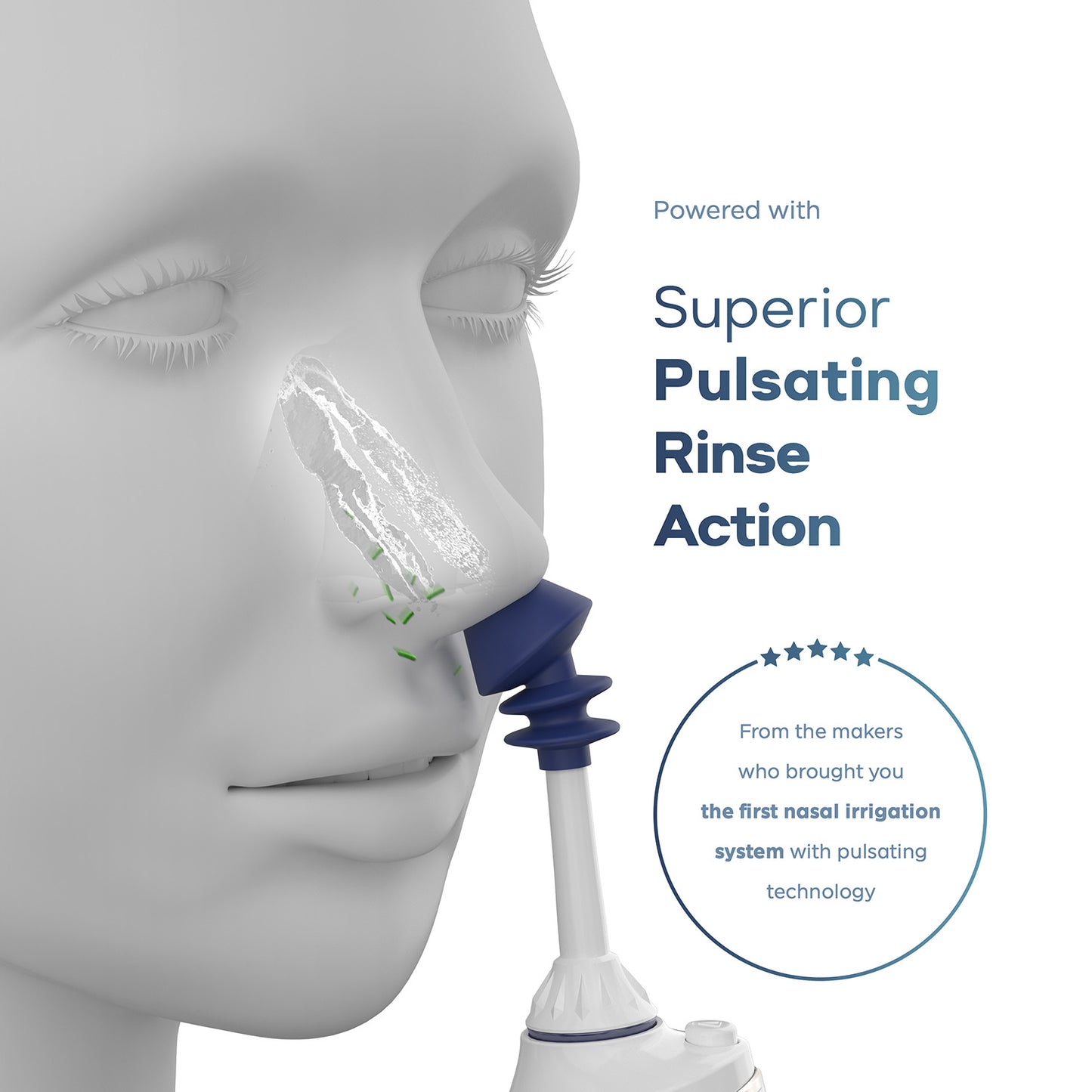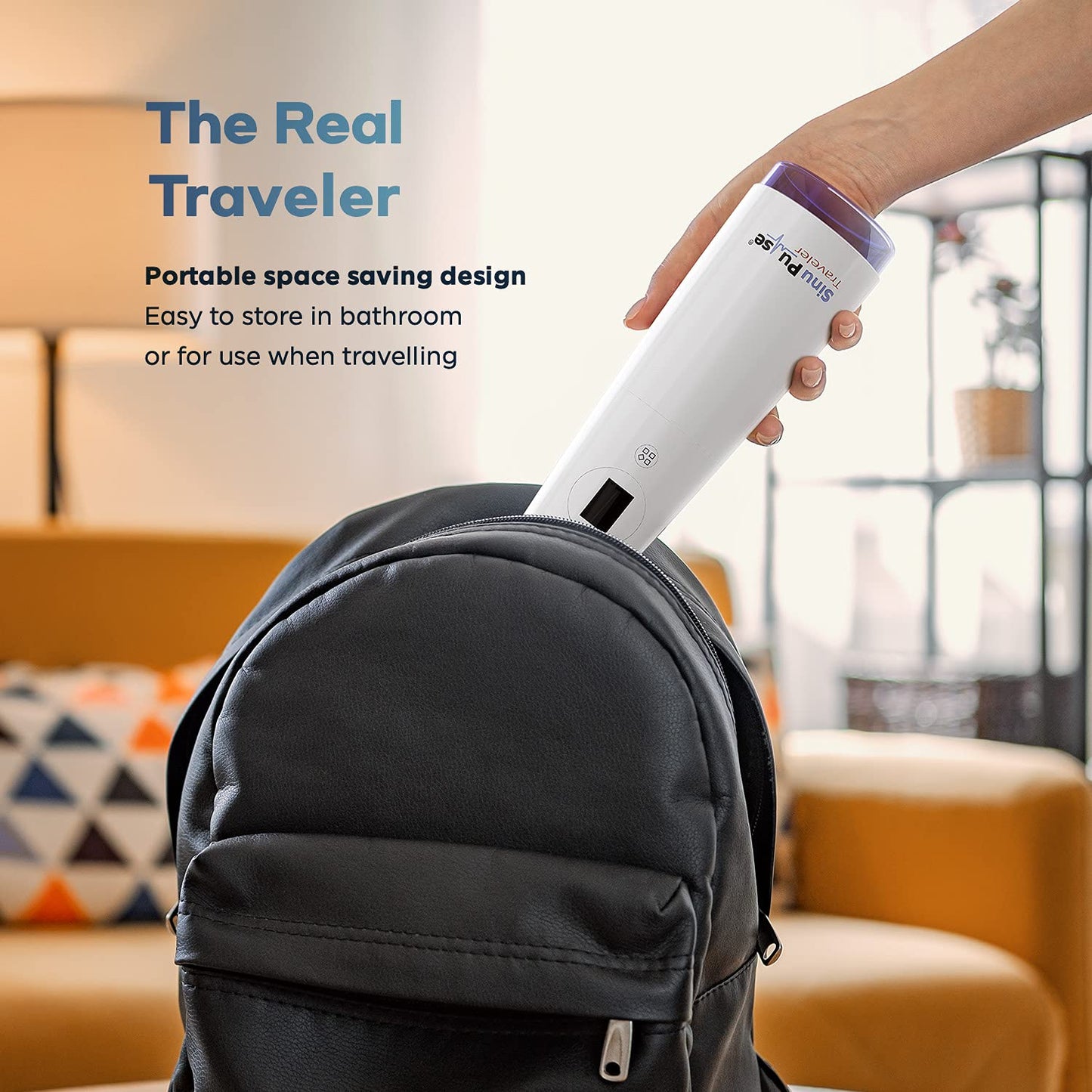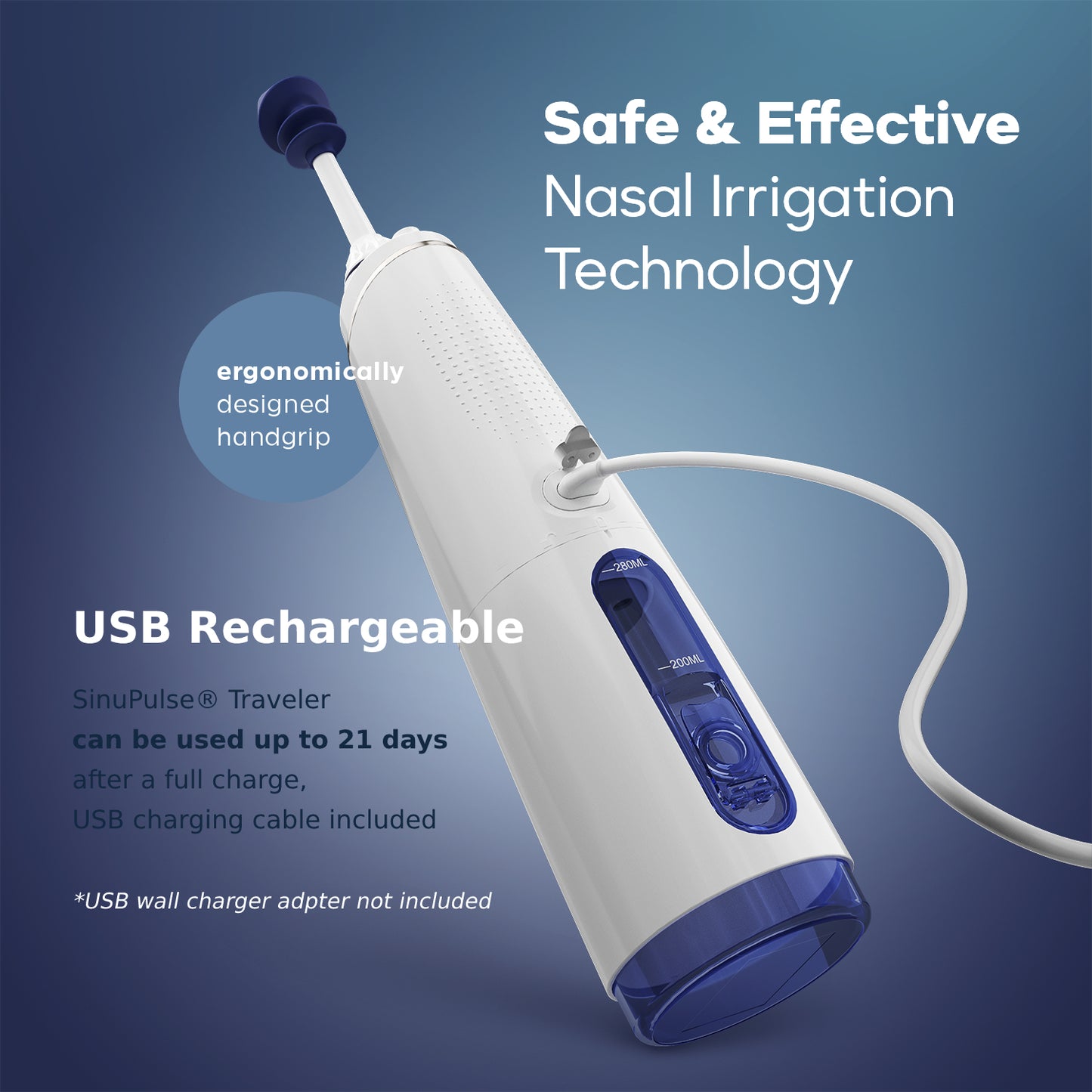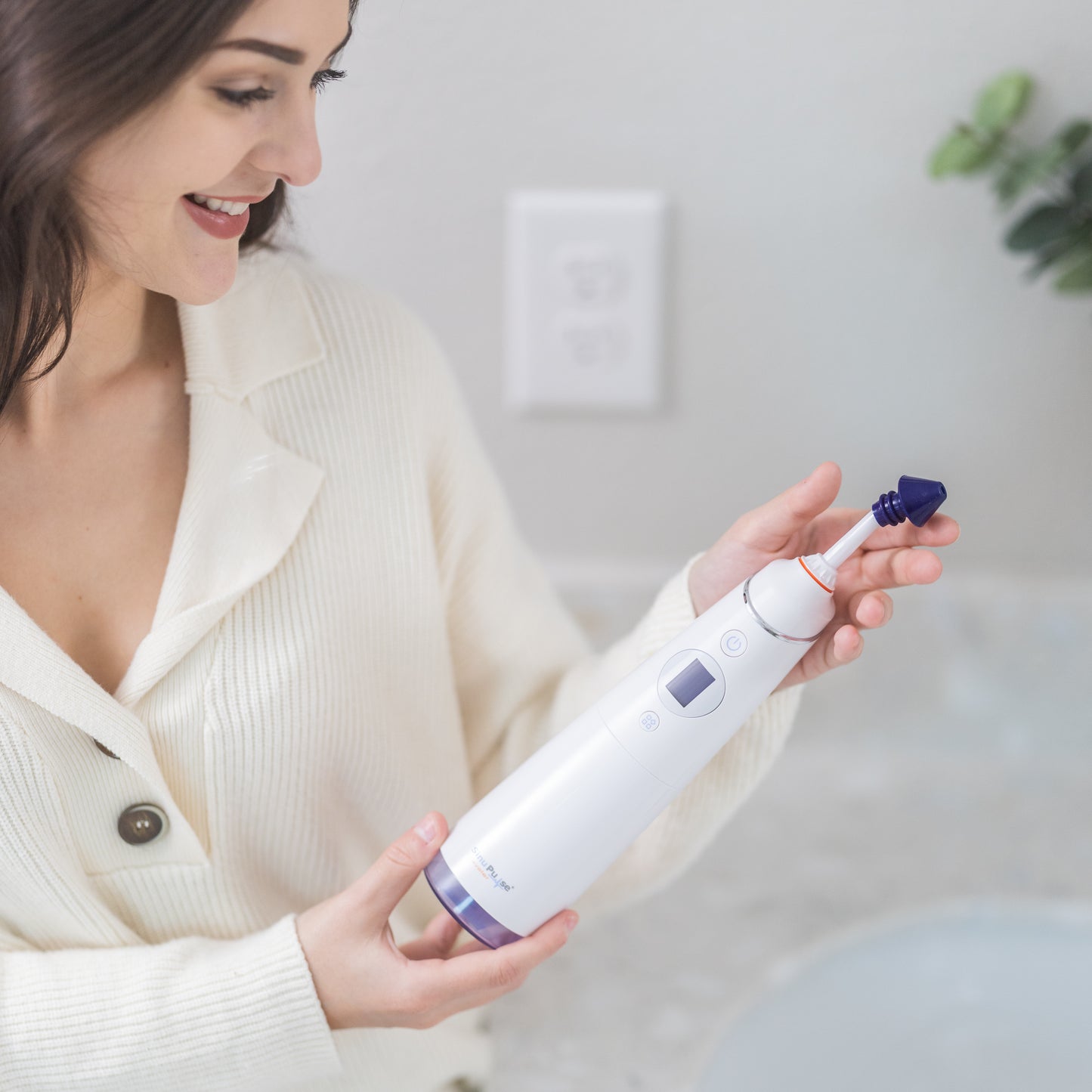 Compact, Lightweight, and Portable
The SinuPulse Traveler® features a gentle pulsating rinse to maximize cleansing benefits. The smaller water reservoir, small base, and lightweight design helps create a more compact, lightweight, and portable device. Built-in rechargeable battery provide multiple uses on a single charge without plugging the unit into an electrical outlet. Four pulsating rinse settings including "wave" mode is adjustable through an in-handle pressure control. The SinuPulse Traveler is perfect away from home, travel, or just on the go. The SinuPulse Traveler helps rinse away what other nasal wash products can leave behind helping you feel clear and breathing better.

Made with integrity we started Health Solutions nearly 30 years ago and introduced the very first pulsatile nasal sinus irrigation system to provide an alternative to treat allergy and sinus problems and strengthen the natural immune system. Unfortunately, today too many companies have jumped on the nasal wash bandwagon marketing products in an effort to sell a lifetime of salt packets (saline). This results in "The more you use it, the more you need it" cycle of dependency that can actually weaken the natural immune response. Our SinuPulse products and patented IntelliPulse™ technology have been engineered to match the natural frequency and cycle of the nasal cilia helping strengthen our body's natural immune response to better protect against symptoms of sinus infections, allergies, cold and flu. Don't be fooled by imitations and companies only interested in selling salt packets. Achieve optimal sinus health with The Original SinuPulse Sinus Irrigation products, since 1996. When your health matters, trust the best...don't settle for less.
The SinuPulse Traveler® Cordless Pulsating Nasal / Sinus Irrigator Includes:
SinuPulse Traveler cordless pulsating nasal/sinus irrigator
2 color coded sinus irrigator tips
USB-A charging cable compatible with any power source (USB wall charger not included*)
30 packets formulated SinuAir Traveler enhanced saline powder
User Guide with quick set-up instructions
IMPORTANT: 5V/1A (1000mA) universal USB wall charger is recommended to avoid possible damage to the charging port. Higher voltage, rapid wall chargers are not recommended.
State-of-the Art features include:
SinuPulse pulsating rinse action for maximum cleansing
Hypoallergenic soft nasal tip
OLED display with 4 pulsating rinse modes and memory function
360º for a comfortable fit and clean hard to reach areas
High performance rechargeable battery that lasts up to 30 days
Integrated pre-filter to prevent undissolved solids
IPX7 waterproof design
Lightweight ergonomic handle for easy handling
Portable compact space saving design
Detachable 280 ml water reservoir for easy fill
1-year full warranty
Measurement scale on water reservoir
SinuPulse Traveler® - Innovation and Performance!
The SinuPulse Traveler has been engineered with state-of-the-art electronics. Its cordless design is convenient, portable, and great for travel. Featuring a patented intuitive display the SinuPulse Traveler delivers versatility and performance. The SinuPulse Traveler is the perfect compliment for our #1 rated SinuPulse Elite for quick and effective nasal irrigation on the go.
Other Sinus Rinses Are All Washed Up
Don't settle for expensive salt pod refills & messy hard to clean waste containers
No Expensive Refills – Use with Any Saline

No Expensive Refills – Use with Any Saline

check_circle

check_circle

check_circle

check_circle

close

Dozens of Published Medical Reports

Dozens of Published Medical Reports

check_circle

check_circle

check_circle

check_circle

close

Intellipulse Technology for Consistent Pulsating Rinse

Intellipulse Technology for Consistent Pulsating Rinse

check_circle

check_circle

close

close

close

Adjustable Pressure for Comfort & Control

Adjustable Pressure for Comfort & Control

check_circle

check_circle

close

close

close

Breakdown Biofilm, Remove Bacteria & Restore Ciliary Health

Breakdown Biofilm, Remove Bacteria & Restore Ciliary Health

check_circle

check_circle

close

close

close

Dual Pulsating Spray Rinse Action to Moisturize & Cleanse

Dual Pulsating Spray Rinse Action to Moisturize & Cleanse

check_circle

close

close

close

close

High Capacity Water Tank (700ml) for Large Volume Irrigation

High Capacity Water Tank (700ml) for Large Volume Irrigation

check_circle

close

close

close

close

Health Insurance Eligibility

Health Insurance Eligibility

check_circle

close

close

close

close

Extended 2-Year Warranty

Extended 2-Year Warranty

check_circle

close

close

close

close

Bonus Throat Irrigator & Tongue Cleaner

Included Throat Irrigator & Tongue Cleaner

check_circle

close

close

close

close

Cordless Design

Cordless Design

close

check_circle

check_circle

check_circle

check_circle